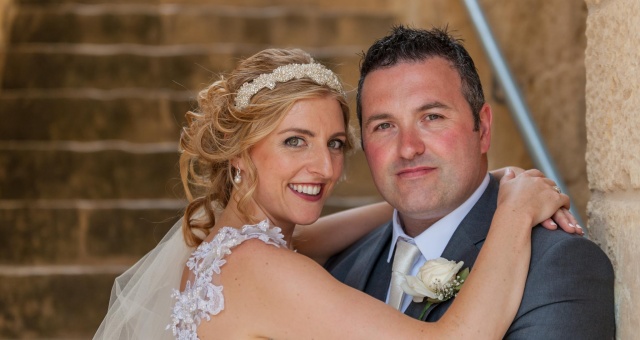 We couldn't but notice this Irish couple's passion and attention to detail while planning their wedding. We will refer to the aspect of "passion further below. In the meantime, allow me to focus on the "detail" part. We encountered an unlikely number of similarities during this destination wedding. First of all the venue where they said "I do" was literally within a few meters from where a wedding we photographed took place earlier this month. Further tying these two weddings together was the fact that both grooms are musicians in a wedding bands.
If we hadn't known any better, we would have speculated that the two couples spoke with each other before requesting our services 🙂
But I'm not done with similarities, yet: the bride works as a teacher, just like my wife.
It's really a small world we live in.
We live on Gozo; a place that enjoys unrivaled scenery and over 300 sunny days each year. Hence, all of this makes our island the ideal place for a organizing an away-from-home destination wedding. What made us tick, however, was not the "were". It's the "why" part of this wedding story.
Let's put it this way, Ger is involved a lot in weddings. Irish ones, but still weddings all the same. So much so that he was the one to first float the idea that their wedding should be "different". That is where the idea of a destination wedding in Gozo started to materialize.
Now, back to "passion".
Some time ago we came across a newspaper article. In fact, it had nothing to do with weddings. Consequently it's likely we could have come across it by pure chance. According to this article, the real personality of Irish people is made up of creativity, fun and, as we were already saying, passion. In view of this, and after getting to know better Niamh and Ger we can safely state that this couple tick all the boxes. I grew especially fond with the groom's sense of humor. He kept us in stitches throughout the entire post-wedding photo shoot.
1,600 miles away from home
It was remarkable to see the 80 guests that traveled all the way from Ireland to be present for Niamh and Ger's big day. Seeing all this we couldn't but recall our very own wedding day. Similarly but to a smaller degree, we had some relatives coming from very far to attend, and I remember how pleased and grateful we were at their presence in our special day.
On an identical, but perhaps more inspiring note, the bride's parents drove across Europe in their caravan to be present at his daughter's wedding: hats off for that.
Destination wedding with Gozitan summer?
Blending the two is not easy, but Niamh and Ger's planning work paid off big time on this one.
Nuptial mass took place inside the Gozo Cathedral at the the Citadel. We then headed for the post wedding photo shoot on the mighty bastions surrounding the "old city". Finally a reception then followed at Palazzo Palina in Ta' Cenc Hotel, Sannat. Bride and groom were welcomed at Ta' Cenc by Michel playing traditional folk music, as well as Alex and his able catering team.
Niamh and Ger's wedding took place in what was the hottest day of the year so far. Consequently, ventilators were also in the limelight during the day. With that being said, however, we didn't really feel the brunt of the heat. However the heat didn't get the better of us since both fortifications and reception venue had an abundance of shaded areas. When that is said by a "winter person", it really means something.